Posts filed under 'Kathleen'
Saturday, was Kathleen and Charlie's annual Pig Pickin' in Craig County, Virginia. I've attended this event a few times over the years– the first being 1998…ten years ago! Time flies!
A lot of my immediate friends who were with me in 1998 have moved away to different locales. For example, Ryan S moved to Maryland. Brian and Jodi are in North Carolina. But looking at the 1998 pictures, I see do someone who made both 1998 and 2008.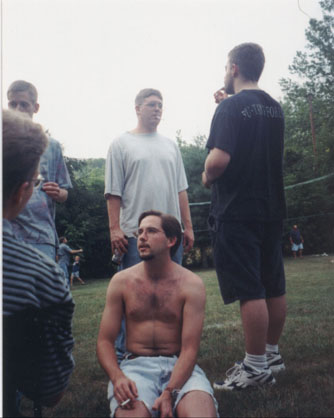 Tony Airaghi at 1998 Pig Pickin'

Tony Airaghi at 2008 Pig Pickin'
This event has always been dog friendly, but this year was the very first time I contributed to the pack. Jimmie accompanied me! I was pleased with his attendence. With a few infractions involving interest in the garbage or some of the dead opossums (a staple), he was well behaved. Poor Henry's back foot is still weak, so I felt it was best to keep him away from all the other dogs and excitement.

Jimmie (on left) playing with some other dogs

Most of the time, Jimmie just chilled around me (those are my feet)
Last year, I got a lot of photos of the pig chopping process. This year, I went ahead and took a short video:
The food has consistently stayed delicious for a decade now and the party is always a fun time. I'll part with a few more pictures:

I thought Charlie looked especially manly holding his Kahlua White Russian

A brief rainstorm (it did not stop the party)
Plenty of more pictures from the Pig Pickin' 2008 are up on my Flickr site.
Today, Sean, Ledman and I went to Charlie and Kathleen's house for their annual Pig Pickin'.  Their social group is quite committed to the event– This was their 21st year!  The slow cooked pig was delicious, but for me, the baked beans featuring coffee and french onions stole the show.  I had three servings!
Some pictures:

Armed with S-hooks, four men move the pig off the fire

Charlie (left) takes a taste test

One of the many pig decorations on the property

Men laugh as they chop the pig (Yes, some are using axes)

A dog strategically waited underneath the chopping table to lick the juices that dripped off.
More pictures from Pig Pickin' 2007 can be found on my Flickr site.